Hamilton Watches is the Official Timekeeping Sponsor for Canadian Aviator.  Press Here to visit their site.
Discovery Air Does ISR Mods For Baron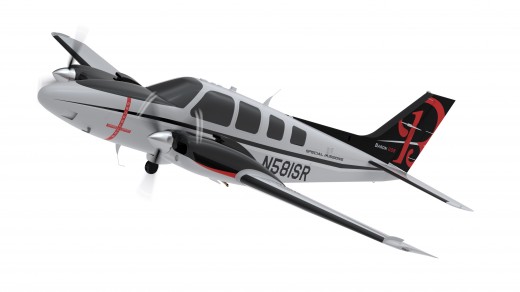 Discovery Air Technical Services did the modifications on Beech's demonstrator ISR Baron.
Discovery Air Technical Services(DATS) has delivered a demonstrator model of a new intelligence, surveillance and reconnaissance version of the venerable Beechcraft G58 Baron.
DATS did all the modification work to install the sophisticated gear that turns the comfortable six-place twin into a formidable aerial surveillance platform.
"The G58 ISR Demonstrator incorporates a complete mission suite that includes an electro optical /infrared sensor, mission communications suite, data management with moving map, SATCOM, datalink, GPS, mission operator console with multiple displays and cockpit display," DATS said in a news
The Toronto-based division of the company finished its work in March and the aircraft is now at Beechcraft's Wichita facility for painting and other preparations.
The aircraft will embark on a 40-stop world tour to try and interest military and paramilitary organizations in the aircraft, which is being billed as a faster, less expensive and more versatile ISR aircraft than helicopters that are often used in similar roles.
Beech sells a lot of its turboprop King Air 350s in a similar role but the Baron is significantly less expensive to acquire and to operate.
The new airplane is actually the second ISR platform modified by DATS for Beech. At last year's Paris Air, the first aircraft was delivered to a special enforcement unit of the Puerto Rico Police Department.
Beechcraft released a video on the new Baron ISR project using the earlier aircraft.
Discovery Air Technical Services/Beechcraft G58 ISR
Delta, B.C.'s Avcorp has been awarded a $4.4 million federal repayable contribution to develop new metal bonding technologies for use in aircraft parts manufacturing. The funding will allow the company to hire staff, including university students, to develop the new techniques to keep the company on the leading edge of aircraft manufacturing processes. "This funding
read more
Anyone in the Calgary area will be able to have an up-close look at Canada's longest runway a couple of weeks before it officially opens with a unique public event. To celebrate the June 28 operational opening of the new runway, a 14,000X200 stretch of Alberta prairie that will be able to accommodate the largest
read more
Last week the federal government announced that Canada will send six CF-18 fighters to Poland in response to escalating tensions in the Ukraine. The aircraft will be part of a NATO operation and will patrol the borders of the Baltic countries of Estonia, Latvia and Lithuania to beef up their security in the uncertain situation.
read more
An unidentified person who goes by the YouTube name of Quadrotor Dragonfly is stirring some angry controversy after a clearly illegal and potentially dangerous drone flight resulted in a bird's eye view of a 737 on final to Vancouver International Airport. The camera-equipped drone appears to be shooting the video from at least 500 feet
read more
After 20 years of attempting, by various means, to replace Canada's Sea King helicopters, the federal government has embarked on a kind of speed date with those who might provide one. The Canadian Press is reporting that senior representatives of the Department of National Defence and Public Works Canada gathered representatives from three helicopter companies
read more
You can see a more complete list of our past Front Page Editorials.  Press Here to take a look.